BOMBER ONE-PIECE FREERIDE OR GUIDE POLE
This stout aluminum one-piece ski pole is equally at home in bounds as it is in the backcountry. Its simple build includes a feature set trimmed down to the necessities of uphill travel and downhill performance.
The rubberized, extended grip is lightweight and provides unlimited options for grip location along the top of the pole. It acts as an added layer of insulation against cold poles with your bare hands. The side hill bump increases stability for those technical sections of a traverse. The handle features G3's Quickflick Utility Tab to flick heel lifts or buckles.
Includes comfortable and lightweight wrist straps that are easily adjustable. The clip makes it super easy to remove your straps for backcountry skiing or tree skiing. The redesigned all-mountain basket is the perfect size (85mm) and shape to tackle any snow condition and is especially suited for steep and technical terrain.
This pole can be used all season round as a sturdy trekking pole in the warmer months.
Recommended Skier Height:
Pole Length
User's Height (in.)
User's Height (cm)
115 cm

5'4" - 5'6"

162 - 168 cm

120 cm

5'7" - 5'9"

170 - 175 cm

125 cm

5'10" - 6'0"

178 - 183 cm

130 cm

6'1" - 6'3"

185 - 191 cm

 

135 cm

6'4" - 6'6"

193 - 198 cm

Ergonomic dual density plastic grip shaped for comfort & precision.
QuickFlick Utility Tab to flick your binding risers or buckles with ease. Also aids in precise pole plants
Hard plastic eyelet yields one of 2 attachment points for drying gloves or attaching tent lines.
Soft & light removable strap
All-Mountain Basket - 85 mm size is perfect size and shape to tackle all conditions. Has correct stiffness to manipulate bindings
18mm aluminum shaft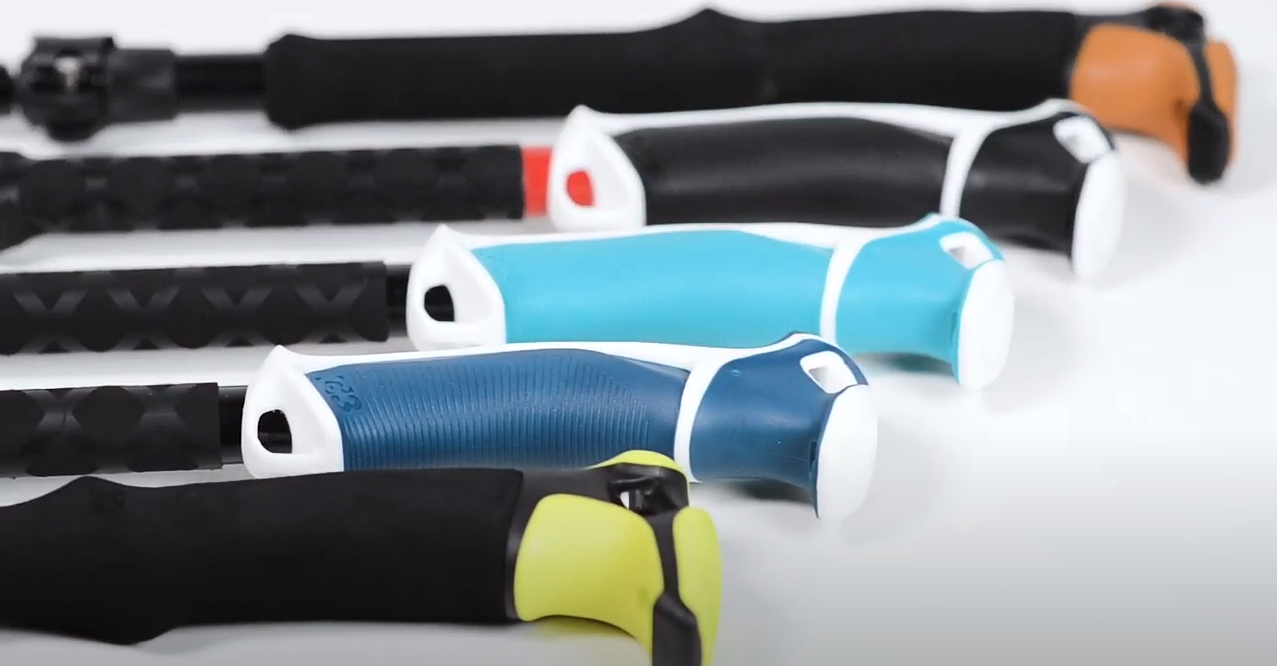 Tech Specs
Lengths:

115cm
120cm
125cm
130cm
135cm

Weight (kg):

255g
267g
272g
275g
281g (per pole)

Weight (lb):

9oz
9.4oz
9.6oz
9.7oz
9.9oz (per pole)

Material:

Aluminum
Bomber poles
Very skookum one piece pole, awesome grips, utility hook works great for heel rises or toe lock. Simple, durable and effective
Fixie ski poles
Great all around pole. Very durable, I've used these poles for several years and they have preformed great.
Thank you for leaving us a review! We really appreciate it.
Stands to the task
Lightweight, simple enough not to be a rocket science thing. Has great features that makes them useful. It delivers what I expect and hopefully will stand the endurance test.
Perfect
First pole ever bought with a great balance and handling! Realy what I expected! 😊😊😊
Fixie
Great poles. My second pair as I wore the first pair out. Durable, well designed, reliable.